Our Story
GENEVIEVE JAZZ is a unique combo bringing live jazz to Chicago's music scene,  transcending a wide range of styles -
Jazz, Pop, Latin, Blues -  and a variety of others.  
Elegant vocal arrangements made famous by Ella Fitzgerald, Stevie Wonder and Antonio Carlos Jobim,
and memorable instrumentals by John Coltrane, Charlie Parker and Thelonious Monk, are delivered with poise.
The GENEVIEVE JAZZ diversity includes
tunes sung in FIVE languages-
English, French, Italian,
Portuguese and Spanish! 

 Genevieve has surrounded herself with a fresh collaboration of local musicians.  
Their work has taken them to performing engagements at 
The Jazz Showcase in Chicago, The Metropolitan Club at Sears (Willis) Tower,
 and the Brookfield Jazz Society.
Steve Meisinger - Tenor & Soprano Saxophone
Mary K Zaborniak - Piano, Accordion, Organ
John Onak - Upright & Electric Bass
Greg Zaborniak - Drums & Percussion

 These professionals are always happy to select the perfect tunes from their repertoire
to customize your event.

GENEVIEVE JAZZ is currently accepting bookings in clubs and restaurants,
as well as private and corporate events.

 Do not forget to call GENEVIEVE JAZZ for musical success to your event!
Contact:    
Steve at:  steve.meisinger@me.com or 312 804 4063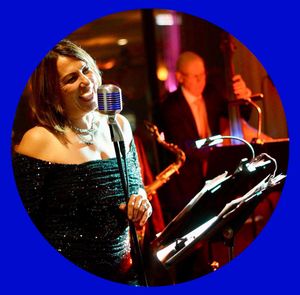 "

What a beautiful mezzo soprano voice Genevieve has! The evening was one of reminiscent enjoyment which will stay with me for a long time."
— Roberta S.